We tested
LG LW6500
recently with LG's new Cinema 3D technology that utilizes much cheaper polarized 3D glasses. In a new update prior to the official launch LG has made some improvement to the software in the TVs to improve 3D picture quality.
Improved Cinema 3D TVs
There are two different 3D technologies on the market today: active 3D and passive 3D. LG's Cinema 3D is the passive kind that only requires the cheap polarized 3D glasses that you know from cinemas.
Learn more about
active vs. passive 3D in this article
.

Updated firmware for Cinema 3D TVs
LG has now made some improvements to the TVs with Cinema 3D and all current users and future users will benefit from this update as it is a firmware update to the TV. LG says that they have changed the algorithm used to show 3D pictures.
Before the Cinema 3D technology worked like this: During a time period of 1/200 seconds the TV showed 2 frames; 540 lines for the left eye and 540 lines for the right eye.
The new algorithm shows 4 frames instead of 2 during the 1/200 second time frame. It shows 1080i for the left eye and 1080i for the right eye.
When these are combined the two pictures create a 1080p picture according to LG. LG believes that this update improves picture quality on their Cinema 3D TVs to compete directly with the active 3D TVs such as 3D plasma TVs. You need to turn off TruMotion to utilize the new algorithm. See the illustration below.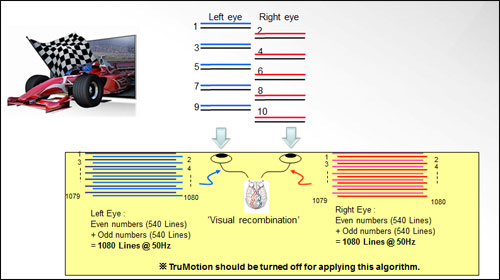 Updated firmware for Cinema 3D TVs
The software update might be ready now or very soon in your country. Try to connect your TV to the internet to search for an update. LG's Cinema 3D TVs are not available in all countries yet but all future Cinema 3D TVs will come with the new software preinstalled, LG says.
In our LW6500 review we also saw that Cinema 3D is flicker-free and that it puts far less strain on the eyes when playing games. Read the
LG LW6500 Cinema 3D review here
.