Earlier this year we tested LG's
Cinema 3D LW6500
TV that utilize cheap polarized 3D glasses. LG recently made an update to the 3D algorithm that is used to create 3D pictures. According to LG this update improves 3D picture quality and 3D resolution. Therefore we have taken a fresh look at the Cinema 3D technology and in this article we give you our updated findings.
LG Cinema 3D review - update
LG's Cinema 3D is a so-called passive 3D technology that is based on cheap polarized 3D glasses that you know from movie theaters. Most 3D TVs on the market today utilize active 3D with expensive 3D glasses (around 100-150 USD). The downside to passive 3D is that 3D resolution is lower – at least in theory.

Updated firmware for Cinema 3D TVs
We tested LG's
LW6500
earlier this year but LG recently made some improvements to their
3D system and software
to improve 3D picture quality and Cinema 3D was also recently awarded a
Full HD 3D Certified
by a German institute.
Before the Cinema 3D technology worked like this: During a time period of 1/200 seconds the TV showed 2 frames; 540 lines for the left eye and 540 lines for the right eye.
The new algorithm shows 4 frames instead of 2 during the 1/200 second time frame. It shows 1080i for the left eye and 1080i for the right eye.
When these are combined the two pictures create a 1080p picture according to LG. LG believes that this update improves picture quality on their Cinema 3D TVs to compete directly with the active 3D TVs such as 3D plasma TVs. You need to turn off TruMotion to utilize the new algorithm. See the illustration below.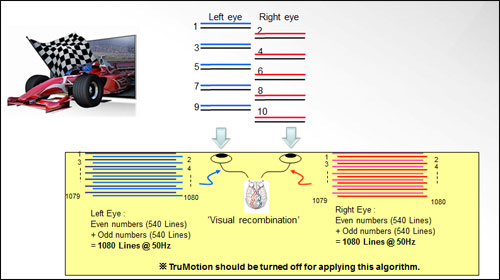 Updated firmware for Cinema 3D TVs
Due to these changes we believe it is necessary to update our LW6500 (and Cinema 3D) review. In the next section you can read our updated impressions.
3D picture quality after the update
I have not been able to do side-by-side examinations but I have seen LG's Cinema 3D TVs many times in the past before the update.
The first thing I noticed after the update is that the TV had a higher level of crosstalk if you are sitting very close to the TV. In our original LW6500 review we talked about "lines" in the 3D pictures when viewing the 3D TV from up close. These lines are a lot less pronounced but instead crosstalk has increased. However, from a distance – around 1,5-2 meters - crosstalk disappears, and that is the important thing. Our advice to move a few meters away from the TV is therefore still relevant. As long as you do that you will not experience any problems.

Updated firmware for Cinema 3D TVs
From a typical viewing distance I feel that 3D pictures appear more detailed than before the update. The "lines" in the 3D images (that are used to create the 3D effect) are no longer perceptible and 3D images feel more polished. 3D pictures look less jaggy and more natural. The polarized 3D glasses are also pleasant to wear and use, mostly because they induce less eyestrain compared to active shutter glasses. The level of detail in 3D images is definitely improved and it helps to raise the 3D experience close to that of active 3D TVs.
The colors are fairly accurate and natural when using the 3D THX preset, which ensures that color reproduction matches what the movie instructor intended you to see.

Updated firmware for Cinema 3D TVs
Depth perception has not changed since the update and I still feel that 3D plasma TVs are capable of reproducing better 3D depth. But LG's TV is also doing pretty good and 3D depth looks natural and is not divided into layers (which partly depends on the actual 3D production, but some 3D TVs come with boosted 3D settings).
The vertical viewing angle problem is not solved, however. You cannot get any 3D effect when looking at the TV from above. So avoid placing LG's Cinema 3D TVs on low standing furniture.

Updated firmware for Cinema 3D TVs
Conclusion
LG has definitely managed to squeeze out more juice from their Cinema 3D TVs with the new 3D software. 3D pictures appear more detailed and smoother, and are pretty much crosstalk-free. 3D depth is pretty good and we felt that the "grainy look" has been minimized to an insignificant level. The polarized 3D glasses are very comfortable and cause less eyestrain compared to active 3D glasses. You still need to sit a few meters – 1,5-2 metes - away from Cinema 3D TVs, or else you will experience some crosstalk
I regard Cinema 3D as a broader 3D technology than active 3D. Cinema 3D is a better solution for everyday people who seek an easy, cheap and user-friendly 3D solution. However, I still feel that the Cinema 3D technology needs to find a better TV companion with deeper black levels. Therefore I am also very excited to see how LG's combination of Nano TV technology and Cinema 3D turns out. Until then, try to get a chance to see Cinema 3D yourself. It is worth your time.
Read the full
LG LW6500 review
here. The review will also be updated with the new findings.