Since its launch in 2004, the BeoVision 7 has been Bang & Olufsen's best-selling TV with 130,000 units sold. It has won several design prices and is often heralded as the flagship in the Bang & Olufsen TV range.
B&O BeoVision 7 gets 3D
-
"I am excited that we are now able to offer our customers an upgraded BeoVision 7 experience which also allows for 3D viewing. Many of our BeoVision 7 customers have asked for this and now it is here"
, says Bang & Olufsen's CEO, Tue Mantoni.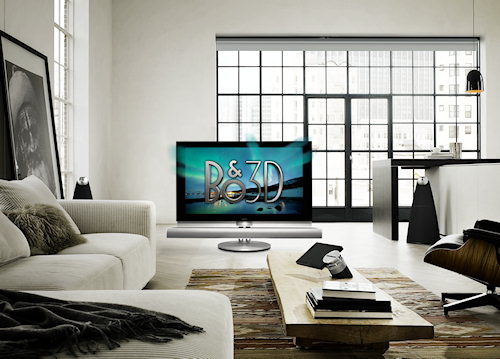 The LCD screen in BeoVision 7-55 is based on new direct-type LED-backlight with local dimming for greater contrast. The TV contains state-of-the-art features ensuring a smooth picture performance, a sophisticated digital surround sound module, and is one of the very few flatscreen TVs in the world to have an integrated Blu-ray player with 3D functionality.
-
"The fact that you can select a solution where the 3D Blu-ray player is built-in is rather unique and Bang & Olufsen is one of the very few companies in the world who offers that,"
states Ole Moltsen, Senior Product Manager from Bang & Olufsen.
3D intensifies the viewing experience
Imagine feeling totally absorbed and a part of the action in your favourite 3D film. With the new 3D technology introduced in the BeoVision 7-55, Bang & Olufsen will take you there. Unlike conventional 2D TV viewing, 3D TV provides a more intense, immersive experience that takes the viewer beyond the sofa in the living room – to feeling like he is right there on the film location itself.
-
"3D functionality is in increasing demand right now where Hollywood as well as the gaming industry is starting to produce more material suited for 3D viewing. At the same time, more and more TV channels – in particular sports channels – are beginning to broadcast for example important football matches from Premier League in 3D. However, the quality of the 2D experience is just as important because this is still what our customers will use the most,"
says Ole Moltsen.
Whether you wish to enjoy your home cinema experience in 2D or 3D, BeoVision 7-55 is designed to give the viewer the ultimate TV experience – even in fast moving scenes.
3D feeds the left and the right eye of the viewer with two slightly offset images. This means that to be able to decode what is recorded by the cameras, the viewer also needs to put on the active shutter glasses, which are designed to ensure excellent picture quality by communicating with the screen.
The beam-shaped loudspeaker below the screen provides superb acoustic performance and signifies the presence of sound as an integral part of your viewing experience. Musically, the speaker rivals many hi-fi systems.
For pricing contact your local Bang & Olufsen dealer.
-
Bang & Olufsen's press release