Two of the biggest tech giants in the world right now, Apple and Google, introduced TV boxes last year to get a foot into the TV market. Their efforts materialized with new products called Apple TV and Google TV - one which proved to be a success and one that turned out to be a big failure. But why?
Apple TV success, Google TV fiasco
Apple and Google are not exactly good friends and are competing in areas such as smartphones, tablets and recently TV. None of them have actual TVs on the market but both have created a box that can be connected to a HDTV. Let us take a quick look at the two products.
Apple TV was introduced in september 2010 as a small black box that allow users to rent and buy movies, TV shows and documentaries either through iTunes or Netflix. More services has been added later on.
Google TV was launched as a separate box together with Logitech and integrated into select Sony TVs. These products were announced in October 2010. The idea is that Google TV provides access to a range of TV broadcasters' online video content. Google TV was believed to revolutionize the TV business.
Google TV is a US-only product and Apple TV has extended to a few European countries. Now, a year after the products were introduced, we can conclude that Apple TV is a moderate success, and that Google TV is a fiasco.
The Hard Facts
It is estimated that Apple sells approximately 500,000 Apple TV boxes per quarter. Figures for Logitech and Sony's Google TV products have not been released but Logitech has reached out to investors, telling that at the moment more Logitech Revue (with Google TV) boxes are returned from retailers than new boxes are sold.
So what went so terribly wrong? Google TV had a lukewarm reception in the US despite a major launch campaign featuring Kevin Bacon, and partners such as Logitech and Sony. TV broadcasters, on the other hand, were not thrilled and started blocking access to their online content from Google TV devices. Users also complained that Google TV delivered an incomplete and clumsy user inteface with limited options. Some even answered the question: "What went wrong for Google TV" with "everything".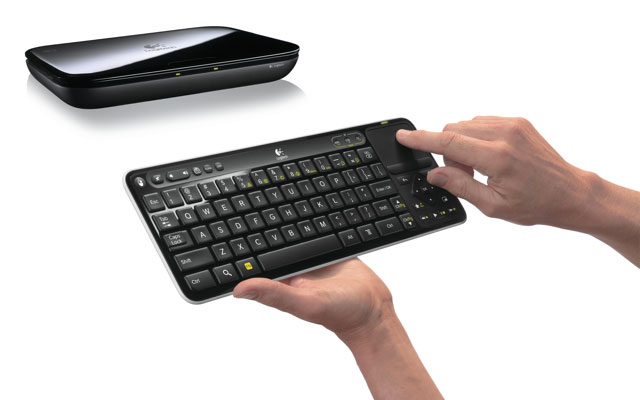 More Logitech Revue boxes are returned from retailers than new are sold
So what did Apple do right? 500.000 products per quarter is not exactly a blockbuster success for a company like Apple, who calls Apple TV a "hobby" but most companies would surely be happy to sell any product in these quantities. It equals almost 260 million dollars in revenue per quarter - without movie rentals.
And Apple's model seems to have worked. Apple TV is centered around iTunes and Netflix and the latter service seem to have been a key factor. Another key factor is Apple's eco system with AirPlay functionality that makes the Apple TV a nice addition to any living room TV.
Fragmented vs. integrated?
Some call Apple's approach closed; others call it integrated. Similarly, people argue that Google's approach is open: others say fragmented.

Google TV was not a small project, but instead a major move by Google
But what can we learn from the last year? I guess that we need to learn that it does not matter whether a system is open, closed, integrated or fragmented. The holy grail to the TV business is - and always has been - content. If a manufacturer can create an easy, and hassle-free solution for bringing video content to the TV screen, users will adopt the solution. If the product fails to do that and the user experience makes it hard for people to access what they want to see, people just do not buy the product.
It really does not come down to Apple's iOS system versus Google's Android system. What matters is content and the user experience.
The Future
None of the products are available world-wide and the two different products are still in their infant years. But both companies seem determined to enter this market in the long run to get a dominant position in the extremely huge TV market.
Google is planning a major update to Google TV with a more Android-based approach. The update will also include an Android TV Market with Apps.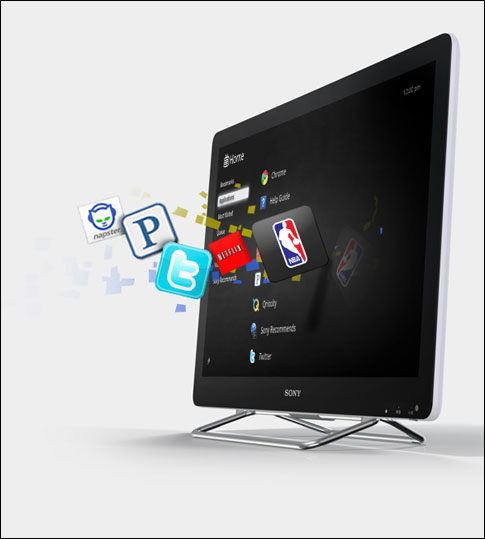 Google working on Android TV Market
Apple is taking a different route, trying to secure contracts with movie companies to make movies and TV shows available on iTunes cheaper, faster and easier. They seem determined to expand their own eco system with more content and less interested in releasing a new Apple TV box because currently Netflix is helping sales in the US.
Both companies seem determined to compete in this relatively new market (for Apple and Google) and evidence suggest that the companies also plan to make a move into HDTVs - Apple allegedly plans to introduce their own HDTV and Google plans to distribute their Google TV platform as a free solution for partners. Samsung, Toshiba and Vizio have all been mentioned as potential partners but nothing has materialized so far.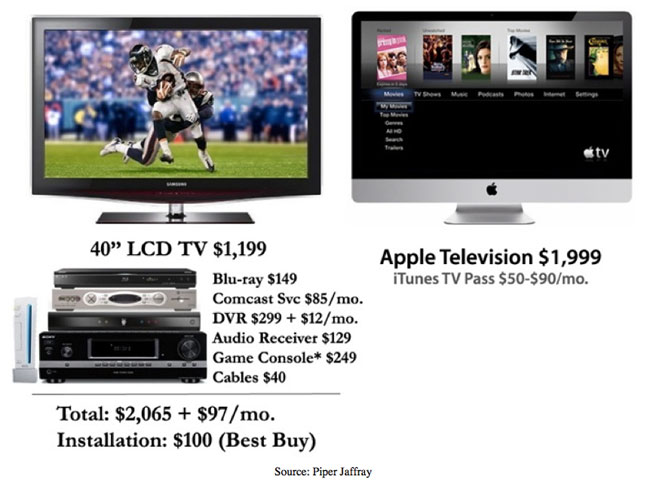 One analyst imagines than an Apple HDTV solution could look something like this
But where are all the other TV manufacturers? They are still here and trying to get foothold with Smart TVs and TV Apps. None have succeeded yet and that leaves room for Apple and Google to enter the market. Maybe even Microsoft? Competition will be fierce in the future and we look forward to seeing who is on top and who hits rock bottom in the next few years.
Who do you think will succeed in the new connected TV market? Share your opinion in the comment box below.
Learn more: