At IFA in Berlin, Philips is expanding its line-up with a 65" OLED TV in the 9 series. It combines OLED technology with Ambilight, Android TV, and an integrated soundbar.
65" Philips OLED TV
TP Vision, the company who produces Philips TVs in Europe, launched its first OLED TV last year – only in 55". When the company launched its 2017 model it was still only available in 55". A larger 65" model has now been announced.
It is not simply a larger version of the existing model. Philips has equipped the TV with a powerful soundbar; a "6.1 sound system", the company said at IFA. And of course, Ambilight.
-
"Ambilight integration reaches new heights with the 65" OLED 9 series TV thanks to the ultra-slim bezel allowing a near seamless connection with the on-screen images. The three sided Ambilight Spectra XL system is able to further enhance the TV's already exceptional color vibrancy and huge contrast ratio while creating a more immersive viewing experience than previously available,"
said TP Vision.
Images are brought to live by the newly developed P5 video processor that was first introduced earlier this year. It can process everything from SD resolution to 4K HDR. The TV supports two HDR formats (HDR10 and HLG) but Philips has yet to comment on whether it will join the Dolby Vision or HDR10+ camp.
The TV is also certified 'UHD Premium', which is the industry's certification program to ensure a good HDR experience.
As usual, the user interface is powered by Google's Android TV. It offers access to broadcast TV, apps for streaming, games, and more. Chromecast is built-in, too.
The new OLED TV will be part of the 9 series that currently consists of the 55" POS900. It is expected to be available in February 2018. Pricing was not announced.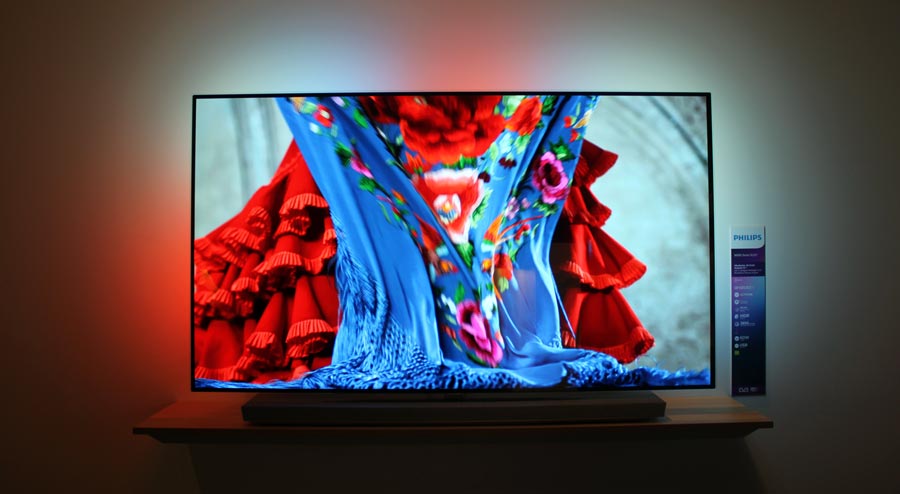 Philips 65" OLED specifications
Extremely thin OLED Panel with wide color gamut
P5 Perfect Picture Processing Engine
UHD Premium and HDR Perfect performance level
Three-sided Ambilight seamlessly connects with bezel free OLED screen
Android TV powered by Quad Core processor
6.1 sound system integrates within the stand
Red Dot Award winning European Design features glass, aluminum and European Kvadrat speaker cloth