Introduction

Dell has recently released their new 24 inch U2410 that has an IPS panel like the Dell 2209WA that we have reviewed some time ago. IPS panels has better picture quality than the TN panels featured in most PC monitors today and IPS panels are ideal for graphic artists and photographers. 

Dell U2410 also comes with extensive connectivity options like HDMI, Display Port, DVI, and USB, and looks like the complete multimedia display, and at the same time offering attractive ergonomic features. Finally, Dell U2410 has two precalibrated sRGB and AdobeRGB profiles for graphics work. All in all Dell U2410 looks like one of the absolutely most interesting PC monitors on the market right now but how does it actually perform? FlatpanelsHD reviews Dell U2410 here. 


This review has been translated from Danish and contains the introduction, measurements, pictures and a conclusion. Some sections have been excluded from the translation but the conclusion is based on the full Danish review on www.flatpanels.dk (Dell U2410 review). Future reviews will be fully translated.





Panel size:
24"
Resolution:
1920x1200
Response time:
6 ms (g2g)
Overdrive:
Contrast ratio:
80.000:1
Brightness:
400 cd/m˛ 
Colour support:
16.7 million colors
Colour gamut:
110 %
Viewing angles (H/V):
178°/178° (contrast 10:1)
Panel type:
H-IPS (LM240WU4-SLB1) (LG.Philips)
 
 
 
Inputs
 

VGA 

DVI 

 

DisplayPort 

 

Audio (type) 

SCART

S-video

Komposit 

Component 

HDMI 

 



Price and retailer:
US
UK retailer
Our first impressions
Dell U2410 looks like most Dell monitors with black plastic and sharp edges.
Touch sensitive buttons for navigating through menus are found on the right side of the frame.
Dell U2410 has a very ergonomic stand allowing you to adjust U2410 with height, swivel and tilt adjustment. Finally, Dell also been integrated a pivot function.
All inputs are located on the back and pointing downwards.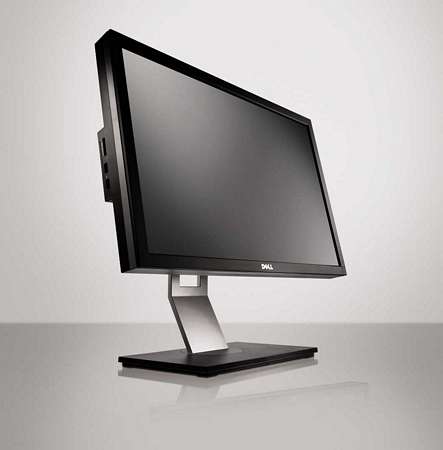 On the left we find a 2-port USB hub and a card reader for both SD, xD, MS and MMC memory cards. The OSD menu has these picture settings: Brightness, contrast, sharpness, color temperature and RGB (red, green, blue).
Power Consumption
We have acquired measuring equipment to measure power consumption. The power consumption on the Panasonic V10 series is measured in the table below. Soon we will release a comparison applet allowing you to compare power consumption on a huge amount of LCD and plasma TVs.
Measurements on Dell U2410 below:
| | | |
| --- | --- | --- |
| | Out-of-Box (gns) | Efter kalibrering (gns) |
| Standbyforbrug | 0,1 W | 0,1 W |
| Pc brug | 73,7 W | 46,8 W |
Dell consumes about 46.8 watts in use after calibration. Stand-by consumption is 0.1 W.
Also, please note that the flat panel TV uses less power after calibration. This is common on flat panel displays because many picture parameters are reduced during calibration.
Test tools
We use the DVI input for testing. The graphic card is Geforce 7900GTO.
The monitor has been measured and calibrated with a LaCie Blue Eye Pro. We also examine the monitor with the help of our
monitorTest
. And finally we test the monitor in games, movies etc.
Picture quality
This section has been abridged when translated. The graphs, pictures and tables have been kept in order to show the results from our tests. After this section you can find the conclusion which has been fully translated and extended. Future reviews will be fully translated.
Dell U2410 has two pre-calibrated profiles called sRGB and AdobeRGB. These profiles are calibrated by Dell before you receive your U2410 model.
Dell included a calibration report that I have scanned:
Dell U2410 calibration report
Here's a measurements on the out-of-box picture quality on Dell U2410.
The graph says this:

The number on the left is the delta value. Delta is a difference between two factors; here it's the difference between the measured colour on the panel and the actual colour that is our target.


A delta value lower that 2 results in a visible deviation from the actual colour.

A delta value over 4 or 5 results in wrong colours.

A delta value between 1 and 2 results in precise but not perfect colours.

A delta value lower than one results in almost perfect colours. The target is 0.

Everything between 0 and 1 is barely visible to the human eye.

The measurement of the sRGB profile on Dell U2410 can be seen below.



And a measurement on the AdobeRGB profile (note the expanded colour gamut on the left side of the graph):



Calibrated settings on Dell U2410.


| | |
| --- | --- |
| | Efter kalibrering |
| Profile: | sRGB |
| Brightness: | 23-28 |
| Contrast: | 50 |
| Input Color Format: | RGB |
| Mode selection: | Graphics |
| Sharpness | 50 |


Black and contrast measurements below. I have measured black, brightness and contrast before and after calibration.


| | | |
| --- | --- | --- |
| | Out-of-Box | After calibration |
| Black level | 0,36 cd/m2 | 0,18 cd/m2 |
| Brightness | 227 cd/m2 | 123 cd/m2 |
| Contrast ratio | 631:1 | 724:1 |
Contrast ratio: +/- 50



I examine Dell U2410 in a dark room below to ensure that no clouding is visible on the LCD panel.



My sample of Dell U2410 has no clouding problems.


Response time and games

Dell U2410 has a fine response time for multi-purpose use, but the most hardcore gamers will probably still prefer TN panels, whose strength lies in the response time. One example is Samsung 2233rz that we have reviewed here: Samsung 2233rz review.

Dell U2410 is very similar to its little brother Dell 2209WA, which also features an IPS panel. Dell U2410 also has some minor overdrive trailing like Dell 2209WA.

Dell U2410 has only minor input lag. It performs well in most semi-fast games but as said it is not quite as fast as the fastest 2 ms TN-based monitors on the market. For sporadic gaming Dell U2410 is adequate, and at the same time it has much better picture quality than gaming monitors.


Movies and viewing angles
Pictures of viewing angles below:

Conclusion
Dell U2410 takes the success of 2209WA to new heights. With its two pre-calibrated sRGB and AdobeRGB profiles Dell gives the graphic artists and photographers a very nice and accurate picture.

Dell U2410 reproduces a very accurate pictures "out-of-box" on the two profiles because of parameters such as superior colour reproduction, which is only matched by more expensive graphics displays. Viewing angles are good as well and the picture quality is very nice. The only drawback is that the IPS panel in U2410 is not capable of reproducing really deep blacks. And some people also dislike the"crystallized" coating on IPS panels.

Dell U2410 also comes with HDMI, DVI, Display Port and USB input. The ergonomic functions provided by the stand are perfect and Dell U2410 incorporates all required functionality in order to satisfy the allround PC users, multimedia users, amateur graphic designers, photographers and office users.

I strongly recommend Dell U2410 which I think is a fantastic screen. You get an incredible value-for-money display and I therefore award Dell U2410 our Top Recommendation Award - and one of the most earned Awards so far.



Press the award logo to learn more.
Price and retailer:
US
UK retailer
| | | |
| --- | --- | --- |
| Pros | Cons | Target group |
| Picture quality and colour reproduction | Blacks | Graphic artists |
| Functionality and inputs | Minor overdrive trailing | Photographers |
| Ergonomics and build quality | | Discerning user |
| Precalibrated sRGB and AdobeRGB profiles | | Allround |
| Price | | |



---


For questions and comments please visits this thread in our forums: http://www.flatpanelshd.com/flatforums/viewtopic.php?f=5&t=70