About a week ago we had a look at the  Dune HD TV-101/301 from HDI and this week we move on to check out the rival from Syabas called Popbox V8. Syabas is the manufacturer of the popular Popcorn Hour media players, which seems to be the direct competition to the Dune series from HDI.

Pricewise we are still located in the sub-200$ range, which means limited features compared to the bigger models, but in return the form factor might appeal more to the general public. Popbox V8 is based on the same Sigma chipset as we saw in the Dune HD TV's, so in terms of raw muscle they should be comparable.

 Subscribe to our Newsletter or RSS feeds to receive e-mails when new reviews are online.




HDMI 
Optical output 
 
Wi-Fi 
(option)
Ethernet 
 100 Mbit/s 
 
USB 

2 x USB 2.0
 
Component output
Analogue output


Size (HxWxD): 
12,8 cm x 10,0 cm x 3,1 cm
Weight
0,25 kg


In the box
IR-remote
  Batteries
  AV-cable
  HDMI cable
  Power supply
  Quick guide



You will find a detailed list of media compatibility at Syabas' homepage: Popbox V8. Note that the player does not support 3D.  


Where to buy:

http://www.popbox.com/onlinestore/ 




Our first impressions

The Popbox V8 has a simple expression with its black metal chassis and its modest dimensions and it feels sturdy. The players is passively cooled, meaning no noisy fans inside. The slim design makes it easy to hide away from sight or squeeze into a vacant slot amongst the additional AV-setup in your home. On the front of the player you find a single USB connection and a power indicator.




Popbox V8 front.


At the back yet another USB connection is found along with the mandatory HDMI output and the Ethernet port. Syabas has also fitted the box with an optical output, a composite video/audio output, and a component video output. These might come in handy if you were planning on hooking up the player with your stereo for music playback without having to keep your TV on at all times.




Popbox V8 back.



The remote is backlit and fits nicely in your hand. The most important buttons are easy to reach and the navigation wheel has a pleasant click to it. The colored buttons did, however, make little sense as they constantly changed function within the GUI of the player - in spite of acutally having labels attached to them that might have indicated some permanent functionality. I would have preferred if these could have been used for e.g. media filtering by the content their labels indicated i.e. "Video", "Music", "Photo", and "All".




The remote control for Popbox V8 is quite decent.





Test tools

 The player is tested on a Sharp LE820 and a Pioneer LX5090 connected through HDMI. Media files are stored on a NAS running NFS and SMB services, connected to the player through a 1 Gbit/s switch. The test material consists of various demonstration clips of varying bitrate, length, and file type. Convertion between formats have been done by our selves to maintain control of the content and the containers. For subtitle testing we have used both internal (PGS) and external (SRT) when possible.



Power consumption

The table below shows the power consumption of the Popbox V8. By default the players enters a sort of instant-standby, which shortens the boot sequence.  


| | |
| --- | --- |
| | |
| Instant standby | 3 W |
| In use (playback) | 4,5 W |
The Popbox V8 consume 4.5 W in use and 3 W during standby. It never really turns off completely in order to save startup time, which makes the standby consumption somewhat large. We saw the same thing for the Dune players, but these had the option to turn off completely, which the Popbox does not. In the name of the environment we would have liked to see such an option for the Popbox as well.
User interface
The menu system is based on Flash with whatever pros and cons this might bring along. The layout of the main screen is clean and simple and more appealing than what we saw on the
Dune HD TV
, but as soon as you enter a menuitem this menu is replaced with the ever so boring folder browsing. From the main menu you have access to local storage attached to the USB, network connections, the setup and two types of apps (web apps and Syabas' own marked apps). Because the menu is based on Flash it does seem a bit sluggish and especially when loading the individual GUI elements you cant help to think of HTML pages being slowly loaded image by image. Flash does however mean that you can have some animation and dynamics applied to otherwise static menu elements and icons.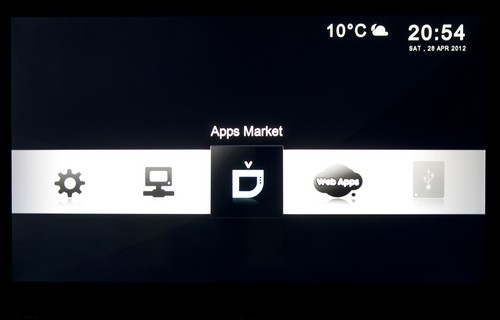 GUI on the Popbox V8.
In the top right corner of the main screen we again find a weather widget that still makes little sense. I don't know why I must be reminded what the weather is like outside, but then again the test lab is not located in a basement like some home cinemas might be...
When navigating folders on e.g. network of locally attached storage two menus are accessible in the left and right hand side of the screen by pressing either"Left" and "Right" on the remote. The left side menu lets you sort your media content by type (video, photos, music or all), and the right side menu gives you access to folder and file handeling such as "Rename", "Copy" etc. The general player setup can always be brought up as an overlay from which you can adjust the general settings such as resolution, language and so on.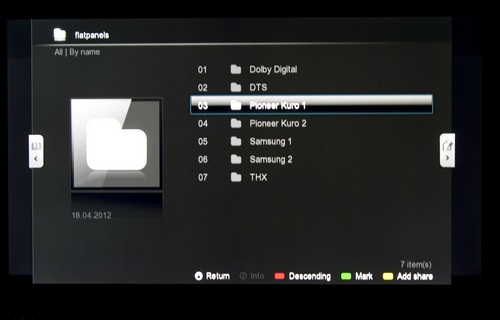 Navition on the Popbox V8
The GUI does seem to be somewhat fragmented in its layout, which becomes very obvious if you visit the newly added Web App menu. Navigating the Web Apps is more of an icon based experience than the rest of the system, and this feature in particular seems a little glued on compared to the "real" App marked.
Browsing through your movies the V8 offers the possibility to download informations about the movies on the fly, but in order for this to work at its best your movies should be arranged without any sub-folder structure (or as BDMV). By hitting the "Info"-button a moviesheet is displayed where information (synopsis, cast, ratings, facts and much more) about the movie is fetched from an online library. Keep in mind though that as things are downloaded this part of the interface also seems a bit slow. Fortunately, things can be sped along by choosing to save the information to the folder in which the movie is stored. Subtitles can also be downloaded at the same time if these are available for your specific movie.
If you want movie covers shown on your movies you must save e.g. a JPG image with a name identical to your movie in the same folder. This also means that your movie library quickly becomes somewhat messy as movie files and cover art is mixed together. Using the filtering from the left side menu becomes a must for movie browsing.
Accessing files placed on a NAS can be done through different protocols such as Samba, NFS, UPnP, HTTP eller DLNA. The setup requires a bit of technical know-how, but thankfully Syabas has added a on-screen QWERTY keyboard for entering information, which in my oppinion eases the task of entering network adresses, usernames, and passwords. Once a network share has been added it is easy to gain swift access to folders within and navigating is as fast as browsing through local media and browsing through the interface in general.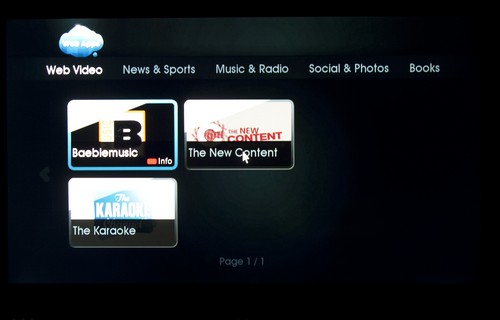 Web App marked in Popbox V8
The accompanying app marked contains 60 apps (at least in DK), such as Youtube, Picasa, Facebook, Twitter, Flickr, and a number of free web streaming services. In addition you will find multiple news readers, radio applications, and few games. The number of apps might be a tad on the low side if you ever visited Google Play or Apple Marked, but in general they work as you might expect. Unfortunately the video quality of the available streaming services is very poor and not really suitable for large screen viewing (most are merely 360p resolution). There was no option of switching to e.g. HD quality on Youtube.
The latest firmware adds a Web App icon to your home screen, but the content of this service seems to be very similar to the regular app marked, so besides the possibility to browse webpages this part of the player is not yet a real bonus. Not to mention the painstakingly long startup time, which actually reboots the Popbox V8 into another state to launch the web application - and reboots the player again when exiting. I reacon you really have to love the apps in there to willingly open the Web Apps.
Control Popbox with your smartphone
Controlling the Popbox with a smartphone can be done using both iOS and Androind platforms, and various apps can be found to do the job. The more sophisticated apps let you navigate the network shares you have added in the network shortcuts and browse your movies, music, and photos through the phone interface. This was one of the things we missed on the Dune players, so this is a nice addition that could come in handy if you listen to music and prefer not to turn on your TV to switch songs.
The picture below shows screenshots of two different apps for controlling Syabas media players (including the "real" Popcorn Hour players). It seems that you can't both have a great UI and advanced functionality with these apps, but that could just be a matter of taste.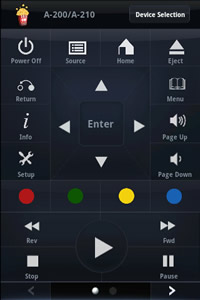 Syabas' own app looks quite like the IR remote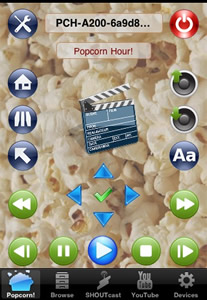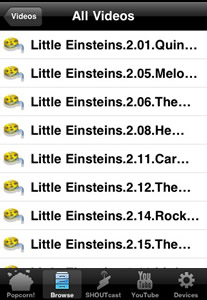 One of the alternatives that offers network share browsing as well
YAMJ on Popbox V8
As with the HDI players Syabas also offers the possibility to install a videowall, but on the Popbox V8 you need an app for this, and do not get the built in NMJ (Network Media Jukebox) that comes with e.g. the Popcorn Hour A300. The app you need to download is called YAMJ (Yet Another Media Jukebox) and like Yadis for Dune it is based on movie scraping being done on a computer.
The user friendliness of YAMJ does however leave you wanting, as scraping is done without the possibility to manually afflict the result in any other way than to properly name your movie files or to add a .NFO file that points to the proper movie info online. You could also edit the resulting XML files holding all movie information, but as these are overwritten when rescraping this might not be the perfect solution. We make use of test clips which do not have any official release information, which makes it somewhat difficult to have proper display of movie covers and descriptions on the moviewall, and on top of things we could not make YAMJ point to the right location on our NFS share, despite trying out every suggestions found on forums. In general it seemed that YAMJ had a steeper learning curve when using network shares than using local USB connected media.
In order not to let our problems prevent the reader from experiencing how YAMJ could look, we have borrowed a Youtube demonstration showing the Eversion theme for YAMJ. The video also gives a pretty good impression of how you navigate to reach the moviewall.
A detailed guide for setting up YAMJ for various types of storages, take a look at
dentedboxes.com
Media playback
We tested the compatibiltiy of numerous movie formats such as BDMV (BluRay Lite), MKV, ISO, M4V, AVI, MJPEG and found no problems opening and playing back any of them. Movies does not start as fast as on the Dune HD TV, but handeling of frequencies (23.976 Hz / 24 Hz / 50/60 Hz etc.) was smooth and without problems. Popbox V8 supports subtitles stored either internally in the movie or externally and the menu settings allows you to preselect which language you prefer for both sound and subtitle - unfortunately we did not always have great success in having Danish subtitles displayed by default. We also saw severe problems when displaying internal subtitles for MKV files, but that will be adressed in the next section. No problems with stuttering during playback or handeling of high bitrates were encountered.
During playback change of chapters was also a bit slow, but perhaps it is of less importance if chapters are skipped promptly, so we are willing to let this one pass. Changing either subtitles or language during playback was snappy enough, and as it was the case with the Dune players the V8 also has quick access to adjusting sound and subtitle delay if a mismatch should occur. Icons and overlays during playback were polished and logical, and it seems that the overall GUI has been given a little more attention than it was the case with Dune.
The video below shows the user interface and the speed at which a movie is started. We also take a quick look at the App Marked.
Playing back music is done through the usual file browser as the player lacks the jukebox of the larger models. Cover art can also be shown for music folders if you save a folder.jpg inside the album folder - same as for movies. As the V8 has both an optical and analouge output it is possible to play back music without leaving your TV on and combined with the ability to browse your attached storage using your smartphone the V8 could actually function quite nicely as a music player.
Pictures can be browsed the same way as music and movies, and a quick tip to help you along is to press "Play" on a folder or image if you wish to be able to skip to the next image using the "FF" button. Pressing the "Enter" button on an image opens this one image only, which took us a few tries to figure out. The transition speed when changing pictures of even modest sizes (below 1 MB) was a tad too slow to make you want to flip through your entire "interrail trip through Europe"-album.
Bugs
We don't usually dedicate an entire section to bugs, but then again we rarely come across devices that has so many bugs that it so severely affects the total impression of the product as it is the case with Popbox V8.
As mentioned earlier we had quite a lot of trouble using subtitles for movies saved in MKV format if PGS subtitles were embedded. Prioer to upgrading the firmware we only saw problems with the timing of the subtitles that would shift between being either too early or too late, but after upgrading the firmware massive graphical errors were introduced accompanied by loss of sound whenever subtitles changed.The error was only produced on certain MKV movies (all produced the same way), but in effect it rendered the use of PGS subtitles useless. At some point we even managed to have subtitles replaced by the coverart of other movies, which just made no sense at all.
We experienced multiple crashes of the V8 during our testing, which all required a rebooting of the player by removing its power connection. Crashes most frequently happened during change of movieclips, closing of apps, or too eagerly pressing the remote. If we were carrying out different operations and not just playing back one single movie file it was actually hard to make the player operate for more than half an hour without crashing.
Conclusion
The Popbox V8 offers an App Marked, Web applications, and media streaming all wrapped up in one compact little box. Most apps work as you would expect even though streaming quality is not impressive. The V8 support almost any media format you imagine and it handles high bitrates without breaking a sweat. The interface is more polished than Dune's, but compared to its older siblings it lacks the NMJ jukebox for media browsing, which is a shame. YAMJ is a worthy alternative, but it seems a bit too clumsy and user hostile that you would hope for when buying an all-in-one package.
Before this review we had high expectations for the Popbox, and kinda expected it to be the one media streamer that would unite a decent App Marked with seamless playback of all your local media, but here at the conclusion we must admit the we are disappointed. The media support is fine, but the MKV subtitle issues are a bit of a downside. The constant system crashes are, however, such a dealbreaker that it seems very hard to recommend V8 at the present time. We need to see some major improvements to the firmware to adress the stability of the player before anyone should consider buying this device.
Where to buy:
http://www.popbox.com/onlinestore/
---
Price
Nice interface
Smartphone controls
App market
3. party jukebox interfaces
---
Unstable software
Slow navigation
No NMJ jukebox like on ore expensive boxes
Bugs in subtitles
---
Syabas Popbox V8-debate
For questions and comments please visits this thread in our forums:
Syabas Popbox V8 debate