Eizo has released their latest monitor in the Foris line aimed at gaming and multimedia. But this is not your typical gaming monitor. Eizo has decided not to rely solely on speed but also provide improved picture quality. That is possible because the monitor is based on a quality IPS panel. 

Eizo promises fast response time, "almost zero input lag", and a monitor developed with feedback from the Fnatic eSports team - but can Eizo improve on the previous Foris monitors? Can they even match 120 Hz TN panels? FlatpanelsHD will examine this and more in our Eizo Foris FS2333 review.
 


Price and retailer:

| | |
| --- | --- |
| US retailer | UK retailer |
| | |
| | |
| --- | --- |
| Size: | 23" Wide |
| Resolution: | 1920x1080 |
| Response time: | 3.4 ms (g2g) |
| Contrast ratio: | 1000:1 |
| Brightness: | 250 cd/m2 |
| Color support: | 16.7 million colors |
| Signal processing: | 8 bit for each color |
| Viewing angles (H/V): | 178/178 |
| Dot pitch: | 0.265 |
| Panel type: | IPS panel with LED |
| | |
| Wall mounting: | |
| Dimensions (HxWxD): | 34.8cm x 54.5cm x 5.4cm (without stand) |
| Weight | 5.4 kg |
| | |
| Built-in speakers: | |
| | |
| Ergonomics | |
| Tilt | |
| Swivel | |
| Height | |
| Pivot | |
| Inputs | |
| VGA | |
| DVI | |
| DisplayPort | |
| Audio (type) | (3.5 mm stereo phone jack) |
| S-video | |
| Composite | |
| Component | |
| HDMI | |
| Other | |
Our first impressions
Not much has changed during the years and Eizo's Foris monitors are still dominated by a matte black frame with sharp lines, giving the monitors a conservative and neutral look.

Eizo FS2333 review
One thing that
has
changed is the thickness. FS2333 is now considerably thinner than previous Eizo monitors. The monitor has a carrying handle on the backside, making it easy to carry the lightweight monitor.

Eizo FS2333 review
The base offers tilt and height adjustment but no swivel or pivot. The height adjustment feature is new and we appreciate Eizo's efforts, as this was one of the things we missed on the last-generation Foris monitor.
All inputs are located on the backside and Eizo has included two HDMI, DVI, D-SUB (VGA) and audio in/out connectors. The two HDMI inputs allow users to connect game consoles or Blu-ray players. There is a headphone jack on the right side of the monitor.

Eizo FS2333 review
There is also a small remote control included that should come in handy if you want to use a Blu-ray player together with the monitor. You actually need the remote to access the setup menu as no buttons exist on the actual monitor. We would have preferred to have the button on the monitor frame as well because remote tends to… well, disappear.
The built-in speakers are not very impressive and certainly lack bass but it is always nice to have some sort of speaker system if you forget your headphones. Just don't expect much.
In the menus the following picture setting options are provided: brightness, black level, contrast, saturation, hue, temperature, gamma, gain, contrast enhancer, smart functions and overdrive.

Eizo FS2333 review
You can also choose from these picture presets: Eco, sRGB, Paper, Game, Cinema, User1, and User2.
In addition Eizo has included a brightness sensor that automatically adjusts brightness according to ambient light conditions.
Energy Consumption
Compare power consumption measurements on different TVs and monitors with our interactive
power consumption applet here
.
You can see our energy measurements on Eizo FS2333 below.
| | | |
| --- | --- | --- |
| | | |
| Standby | 0.1 W | 0.1 W |
| PC | 20.2 W | 24.8 W |
After calibration we measured energy consumption to 24.8 W. Before calibration we measured 20.2 W. It is worth noticing that Eizo FS2333 uses the Eco profile with an activated light sensor right out of the box which explains why power consumption is lower in the Standard profile.
Test tools
We use the DVI input for testing. The graphic card is Geforce GTX260.
The monitor has been measured and calibrated with a LaCie Blue Eye Pro. We also examine the monitor with the help of our
monitorTest
. And finally we test the monitor in games, movies etc.
Picture quality on Eizo FS2333
Out-of-box picture quality on Eizo FS2333 is measured below in the standard picture preset (called Eco).
The graph says this:

The number on the left is the delta value. Delta is a difference between two factors; here it's the difference between the measured color on the panel and the actual color that is our target.


A delta value lower that 2 results in a visible deviation from the actual color.

A delta value over 4 or 5 results in wrong colors.

A delta value between 1 and 2 results in precise but not perfect colors.

A delta value lower than one results in almost perfect colors. The target is 0.

Everything between 0 and 1 is barely visible to the human eye.
The out-of-box colors are actually slightly undersaturated. This is very uncommon to see on monitors and TVs, especially those designed for gaming. We assume that Eizo has made this choice for the Eco profile only and that more vivid and accurate colors are available in the other predefined profiles.
As you can see from the graph and the reported numbers FS2333 gave us a color temperature around 7070 Kelvin, which is a tad too bluish. Some color deviations are also present. The brightness was also quite low.
We selected the sRGB profile that should comply with the sRGB color gamut and therefore be the best choice if you aim for accurate picture quality. Here are our measurements.
The sRGB mode gave us very decent color performance with only very minor deviations such as a slightly too high gamma of 2.3 instead of our target of 2.2. This is not a major concern as the sRGB profile is still very accurate.
The brightness is quite high at 227 cd/m2 but we should note that for gaming and movie watching a higher brightness is preferred. If you plan on using the FS2333 for office tasks as well, you might aim for a lower brightness level for a more pleasing working environment.
We now calibrated Eizo FS2333. Here is the result.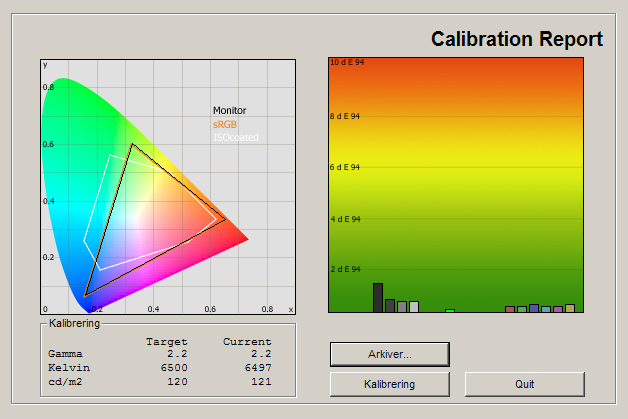 We used the User1 profile as a base for our calibration and we actually found that the User1 and User2 profiles are very, very accurate even before we started to tweak. These are very close to our target values and very close to the sRGB standard – closer than the actual sRGB profile. The only problem was that the color temperature was a bit too high.
Nevertheless, what you see above is the calibrated result. Notice how gamma is now spot-on and the color temperature is now very close to 6500 Kelvin. We have also brought the brightness level down to a more all-round level but if you use the monitor primarily for gaming you could benefit from a higher brightness level, depending on your environments.
The calibrated result is very pleasing and we made some improvements over the User1 profile. After calibration FS2333 even eclipsed some dedicated amateur graphic monitors. Nice!
Our calibrated settings are.
| | |
| --- | --- |
| | After calibration |
| Brightness: | 65 |
| Black level: | 50 |
| Contrast: | 50 |
| Saturation: | 0 |
| Hue: | 0 |
| Temperature: | Off |
| Gamma: | 2.2 |
| ContrastEnhancer: | Off |
| Overdrive: | Standard |
| RGB (gain): | Custom |
| • R: | 89 |
| • G: | 88 |
| • B: | 79 |
After calibration we started examining the monitor in practical use cases and we started with color gradation. FS2333 almost matches some graphic monitors when it came to color accuracy but the color gradation is not on the same level. We experienced some minor bands in the very dark areas of our color gradients tests. Nothing serious. Gradation is still more than adequate and better than most other mid-end IPS panels but just not comparable to the graphic monitors from Eizo. Not that we expected it to be….
Traditionally, IPS panels have suffered from what many refer to as the "dirty screen"-look, where especially bright colors appear to hide behind a layer of dirt or a crystalized coating filter. Lately we have noticed how the dirty screen look has been minimized and we are happy to report that this is also the case with FS2333. The previous generation,
FS2332
had some issues in this area, and FS2333 still has a hint of it but it has been reduced visibly and is not distracting from a typical seating distance. We found this to be true for not only pure white backgrounds but also other bright colors when surfing the internet and working on a Word document.
Eizo uses a Full HD panel. We have talked about this choice many times in the past and it is probably the best choice for a multimedia / gaming monitor but it is not a particularly high resolution for a 23-inch monitor.
Below we have measured black depth, brightness and calculated the contrast ratio.
| | | |
| --- | --- | --- |
| | | |
| Black level | 0.14 cd/m2 | 0.16 cd/m2 |
| Brightness | 100 cd/m2 | 121 cd/m2 |
| Contrast ratio | 714:1 | 756:1 |
Contrast ratio +/- 50
After calibration the black depth was measured to 0.16 cd/m2, which is a very minor improvement over last year's
Eizo Foris FS2332
and comparable to typical IPS based monitors. Black depth is not impressive but this is what we have come to expect from IPS panels. In a brightly lit room the black color looks fairly intense but in a dimly lit room you might notice that it is a bit greyish.
Shadow detailing (the monitor's ability to distinguish dark color shades) were not quite what we had hoped when using the Eco profile but in the User1 and after calibration we could distinguish all shades of grey except the one closest to black. Eizo has implemented a good color controller and it shows.
Lastly we examined FS2333 in a completely dark room to see if it had problems with bleeding or clouding.

Eizo FS2333 review
Our sample had some minor clouding in the bottom left and right corners but it was not critical. We only noticed it on a completely dark screen and not even during movie watching with black bars.
Response time and games
Eizo FS2333 is a multimedia monitor but it is not a 120 Hz monitor. 120 Hz monitors are still considered best for fast-paced gaming but as 120 Hz is only possible on TN panels so far, the extra speed comes at the expense of picture quality. Instead, Eizo aims to deliver better picture quality while sacrificing a bit of speed with FS2333. So how has it turned out?
Quite good, actually. Eizo FS2333 has no real problems with blurring on motion. It is not perfect but compared to the typical IPS, Eizo has managed to push things a bit further. Motion looks very smooth and the monitor manages to present moving images with a fairly high level of detailing.
Per default the Overdrive setting is "Standard" but Eizo has also included the "Enhance" and "Off" options. We recommend going with the "Standard" option as the Enhance gave us too much overdrive trailing. We still saw some light overdrive trailing when using "Standard" but it was only visible during gaming if we looked really hard. So no problems here either.
Input lag is another important aspect in gaming as it measured the delay from receiving a signal to it pops up on the actual screen. Ideally you want 0 ms input lag and Eizo promises "almost zero input lag". We were able to confirm that as we measured only 0-2 ms of input lag during testing. That is impressive and not often seen on an IPS based monitor.
All factors combined make FS2333 a very decent gaming monitor indeed. The gaming performance is not 100 % as smooth as on a 120 Hz TN based monitor, and not significantly better than the
FS2332
, but Eizo continues to push the LCD technology forward and FS2333 is one of the absolutely fastest and best performing IPS monitors for gaming today.
Viewing angles
The viewing angles are very good but it came as no surprise based on the fact that the monitor uses an IPS panel.

Eizo FS2333 review

Eizo FS2333 review
Color shifting is minimal even from wide angles and the only real problem is that black gets more greyish from wide angles. This is also a common phenomenon with LCD monitors.

Eizo FS2333 review
Conclusion
So what do we have here? We have a classic Eizo product with a conservative design but attention to the things that really matters; technology and performance. The DVI port allows users to connect a PC but you can also connect a game console via HDMI. Besides that it is a no-nonsense design without irrelevant MHL smartphone ports, iPod docking stations and so on.
Eizo is renowned for its professional monitors and we see that Eizo has used their experience in this field to optimize FS2333. FS2333 is not just another IPS based monitor but a tweaked IPS monitors without all the small issues of a typical monitor. Eizo's attention to detail still shows even though FS2333 is much cheaper than Eizo's professional monitors. Sure, it still lacks the extremely accurate color profiles of the more expensive monitors but it still provided us with great color performance. The gaming performance is also surprisingly good and even though 120 Hz TN monitors still have the lead in speed, FS2333 offers – in our opinion – a better gaming experience for most games as overall picture quality is better. The great performance extends to movie watching and color editing, too.
Eizo continues to be one of our monitor darlings. Eizo's attention to detail is highly appreciated and FS2333 is just a great IPS monitor. It is as simple as that.
Price and retailer:

| | |
| --- | --- |
| US retailer | UK retailer |
| | |
Picture quality is assessed as overall picture quality, including color reproduction, contrast, viewing angles etc.
Features is an evaluation of the built-in functionality how useful it are, as well as sound quality and ports
Speed is an evaluation of how good the monitor is for gaming, meaning response time, Hz, input lag, overdrive etc
Ergonomics is an evaluation of adjustment options, stability, power consumption, degree of flicker etc.
Total score weighted as: 40% Picture quality, 25% Features, 25% ergonomics and 10% Speed.
All scores are calculated based on a moving maximum target, defined by what we currently consider the best on market. It is then presented as a percentage. This means that a score will fall over time as new and better monitors set new standards. This allows you to compare scores across years. A score of 100% in a given category means that it is consider the best available monitor in this category to date.
---
Picture quality
IPS panel
Almost no input lag
No "dirty screen" look
Price
---
Black level
Still not 120 Hz
Contrast drop from angle
---
Eizo FS2333 debate
For questions and comments please visits this thread in our forums:
Eizo FS2333 debate