Sony HT-A7000 – specifications
Design
Soundbar

| | |
| --- | --- |
| - color | black |
| - dimensions (HxWxD) | 8.0 x 130.0 x 14.2 cm |
| - weight | 8.7 kg |
| - wall mountable | |




Speaker units
7.1.2 channels

| | |
| --- | --- |
| - Tweeter | 2x beam tweeters |
| - Bass | Dual subwoofer |
| - Front | 5x front speakers |
| - Ceiling | 2x up-firing speakers |
| - Other | Can be expanded with rear speakers and subwoofer |




Audio formats
Dolby and DTS

| | |
| --- | --- |
| - Dolby Atmos | |
| - Dolby TrueHD | |
| - Dolby Digital Plus | |
| - Dolby Digital | |
| - DTS:X | |
| - DTS-HD | |
| - DTS | |
| - LPCM | |
| - MPEG-H | |
| - Hi-Res Audio | |










HDMI in/out

| | |
| --- | --- |
| - HDMI inputs | (2x) |
| - HDMI ARC / eARC | / |
| - HDMI CEC | |
| - passthrough 4K | (4K120) |
| - passthrough HDR10 | |
| - passthrough Dolby Vision | |
| - passthrough ALLM | (update planned for spring 2022) |
| - passthrough VRR | |
| - passthrough QMS | |




Inputs
1x USB, 2x HDMI, 1x optical, 1x analog
Outputs
1x HDMI
WiFi
(WiFi 5)
Wireless audio protocols
Yes

| | |
| --- | --- |
| - Chromecast | |
| - AirPlay 2 | |
| - Spotify Connect | |
| - Bluetooth | (5.0) |
| - Other | Google Assistant, can be connected wirelessly to some Sony TVs |




In the box
Power cable, HDMI cable, remote, audio cable (mini-to-mini)
First impressions
Many have wondered if Sony had plans to replace the popular ST5000 with a new high-end product or if Sony was planning to launch compatible rear speakers to go with ST5000 as it was one of its main shortcomings. Earlier this year, Sony finally announced two new high-end Dolby Atmos products, with A7000 being the natural successor to ST5000. Sony HT-A7000 is a 7.1.2-channel soundbar solution meaning that it has 7 speaker units for surround (front, back, center and side-firing), 1 subwoofer channel, and 2 up-firing speakers. In its most simple form all of these channels are embedded in the soundbar cabinet but it is possible to buy discreet rear speakers and a subwoofer to pair with A7000. The additional products will make it a considerably more expensive solution – almost double the price – so in our review we will include an evaluation of the soundbar both as a standalone solution and as a full setup.
A7000 looks like a classic high-end soundbar in a square design with a front grille. It has cloth covering the up-firing units on top extending down on both sides of the soundbar. There are a few touch buttons on top to control the most basic functions. It is not a particularly pretty box – not as big and dominating as the Sennheiser Ambeo and not as sleek as the Sonos Arc. However, it is still quite big with its 130 centimeters in length and weight of 9 kg, although still much lighter than Sennheiser Ambeo's 18 kg – a little heavier than Sonos's models. It feels robust and well-made. Under the front grille hides is a simple display that can provide feedback on input source, audio volume and sound format. The display can be turned off or dimmed.
On the back there is an HDMI switch with two HDMI inputs and one HDMI eARC connection. HT-A7000 is also one of the first soundbars advertised with HDMI 2.1 passthrough for 8K HDR and 4K120. Sony informs us that support for HDMI 2.1 ALLM and HGiG passthrough will be added through a software update scheduled for spring 2022. The soundbar is also equipped with optical and analog inputs as well as USB. In the box there is an HDMI cable, an audio cable, a wall bracket, and a remote control that lets you adjust audio and navigate the user interface, which is visible from the HDMI eARC port on the TV that the soundbar is connected to. The remote control is classic Sony and unfortunately not particularly nice. It has a buttons to control the sound profile as well as the volume of the subwoofer and rear speakers. The soundbar's menu system that is shown on the TV can be used to set up the soundbar and to pair subwoofer and rear speaker. It can also be used to initialize room calibration, which we will get back to in a moment.
If you prefer to use an app there is Sony Music Center, which is for unexplained reasons is required to actually control the volume of the subwoofer and rear channels after pairing, even though the remote control is fitted with dedicated buttons that should do the same thing – the buttons only control soundbar volume. If you own a 2021 Sony TV you will also have menu settings available from the TV's quick menu but my own Sony A9F is an older model so we could not test these capabilities. For the test Sony sent ud a pair of rear speakers (SA-RS3S) and the big subwoofer (SA-SW5). They all connect to the soundbar wirelessly. Build quality is comparable but you may need to have a talk with the wife before buying the subwoofer. It is big and unsightly so it does not exactly blend in harmonically in a living room.
Set-up
HT-A7000 is easy and fast to set up and only if you want to use room calibration or voice assistants will you need to do more than connect it to the TV. Setting up Amazon Alexa or Google Assistant requires you to use an app like Google Home. If enabled, HT-A7000 can also play music or audio with built-in Chromecast, Spotify Connect or Apple AirPlay 2. With access to WiFi, the soundbar interface also lets you connect to storage devices on your home network for music streaming. And if you are not using either Apple or Google, you can use the soundbar's Bluetooth connection for music streaming. After the few initial steps, you are ready to set up your TV to output audio over HDMI ARC/eARC, and to do room calibration. There is no external microphone – like Sennheiser Ambeo – included in the box and A7000 cannot use a microphone in a remote control or smartphones for room calibration either – like Sonos or Sony's own TVs. So room calibration with A7000 will not take your seating position into account. Think of it more like a way to measure and profile your living space, which the soundbar will use to compensate accordingly. There is no equalizer that lets you adjust settings afterwards so besides the volume buttons there is not much fine-tuning you can do here. There are a couple of sound profiles to select from, though. Setting up the subwoofer and rear speakers is also a simple process from the on-screen menu on the TV's HDMI ARC/eARC port, and as soon as the devices are connected to power you are prompted to press a small sync button. After that it is an automated process. After connected additional devices, you should do room calibration again. As mentioned earlier, the remote control will not let you adjust volume on the subwoofer and rear speakers, which is strange. Use the app.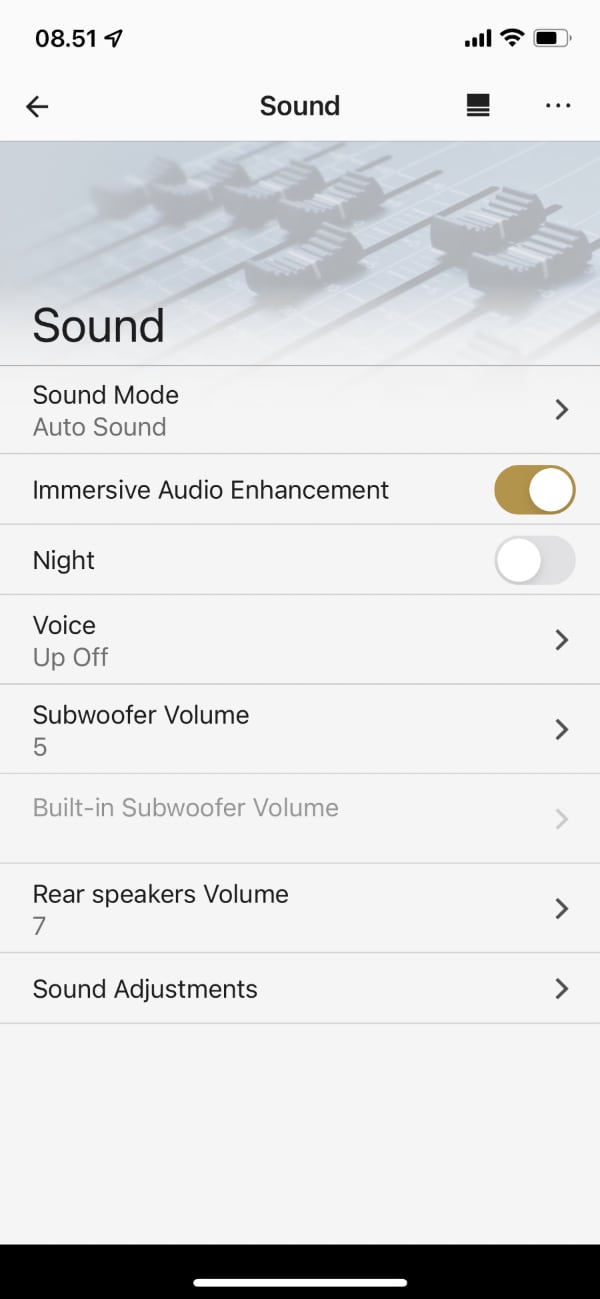 My room is not ideal for a Dolby Atmos setup with discreet rear speakers because the sofa is pushed all the way up against the wall, so I had to improvise and sit as far out on the sofa as possible for the test. We also have the ceiling fitted with sound absorbing material so not the most ideal solution for up-firing units and Dolby Atmos in soundbars but on the other hand we have the Sonos Arc (
review here
) placed in the same position as A7000 so we can compare the two side-by-side. A7000 has an 'Auto' sound profile in addition to 'Music' and 'Cinema'. It is possible to activate or deactivate the up-firing units with the 'Immersive AE' button (or from the app), for example if you do not like these units to be used while listening to music. Even through there is a remote control included it is not required as the soundbar volume can be controlled with the TV's remote control like all other soundbars connected through HDMI ARC/CEC. And you can control the rest from the app so the cheap plastic clicker can be relegated to a drawer somewhere. There are two HDMI inputs in A7000 that you can use for disc or media players, consoles or other devices. In this set-up you only need one cable to the TV's HDMI ARC port. A7000 also supports HDMI 2.1 passthrough but as mentioned earlier there are some HDMI 2.1 features missing that may affect your game console experience. Another consideration is that the use of an HDMI switch will increase the time it take to do frame rate / dynamic range matching if you are using a device like Apple TV 4K. And having only two HDMI inputs could be a limitation in some households. As for sound formats, A7000 supports both Dolby Atmos and DTSX, if you have an UHD Blu-ray player. For the test we had an Apple TV 4K and a PlayStation 5 connected to the TV, and the soundbar was connected through HDMI eARC to a Sony A9F and a Panasonic JZ1500. A7000 was detected as Dolby Atmos compatible in all situations, but we did experience a few dropouts where the TV would fall back on TV audio after which we had to select HDMI eARC again from the TV's settings menu. We have experienced similar issues with other soundbars connected through HDMI eARC and it seems to be one of the joys of HDMI pairing nowadays. It is not clear if the issue relates to the soundbar or the TV and since it is a sporadic issue it is hard to reproduce and check.
Listening test: Music
Overall, we liked Sony's predecessor
HT-ST5000
but missed the ability to connect discreet rear speakers. For the test of A7000, I watched movies and listened to music with and without the subwoofer and rear speakers, and compared it side-by-side with the
Sonos Arc
. The first thing you will notice is that for both movies and music A7000 lacks bass. Compared to Sonos Arc, Sony's A7000 is less capable in the area and compared to competitors like B&O's
Beosound Stage
, it is far behind. I am not fan of rumbling bass but A7000 as a standalone soundbar lacks so much bass that I feel compelled to say that you must connect a subwoofer. There are two subwoofers to choose from but we have only had access to the more powerful of the two (as per our own request to Sony for the review) and in my living space mid-level sub volume was adequate to make up for A7000's shortcomings. Another thing that is immediately noticeable compared A7000 to Sonos Arc is that Sony's soundbar has much clearer treble, which produces clearer but also sharper vocals. In some cases
too
sharp, almost like a tin can effect. An equalizer could probably have helped here. The sound produced in all sound profiles is significantly different from what you get from Sonos, and you are constantly keen aware of where the speaker is in the room whereas Sonos' sound is more diffuse. A consequence is that sound lacks some width and perspective – the stereo perspective was lacking in especially Music mode. I listened to my usual playlist while A/B testing up against Sonos Arc, and found it hard to pick a winner as the two soundbars produce very different sound, so it may come down to taste as neither of the two are particularly good music systems. Music with a lot of activity in high frequencies such as sounds from highhats can get a little tiring to listen to on A7000 but the clear reproduction of vocals on the other hand is a plus. I sometimes ended up activated 'Immersive AE' to give the music a little more width but it was never ideal. As a music system A7000 should work for background music but it is not a system for critical listening and you should adjust your expectations accordingly. For this purpose you will be better served by Beosound Stage or Sennheiser Ambeo, which are the best soundbars for music that we have tested. I experienced some issues with the soundbar's Apple AirPlay 2 functionality, which produces small audio "pops" that became even more evident when comparing it to Sonos Arc, which does not suffer from the issue over AirPlay 2. The issue did not affect HDMI sources on A7000. Turning our attention to a relatively new capability and trend, Dolby Atmos music is gaining traction and it is actually a quite interesting development as we are seeing more and more artists and services support the initiative. For example, Apple Music recently launched spatial audio with Dolby Atmos support, and you can already find a good selection of music tracks and videos. Dolby Atmos or similar formats can add an extra dimension to music although some tracks – or genres – are better suited for the expanded sound space in Atmos than others. I miss some good concerts in full Atmos effect but the cam has been opened so it is probably just a matter of time. What is clear is that it is definitely more than just a gimmick. If you are still not persuaded you may want to give the
Dune
soundtrack a listen. Some of the kids' favorites are
STAY
from Kid Laroy and Justin Bieber, who has a more playful approach to Atmos music similar to The Beatles' approach to stereo, which can at times be too much "stereo for the purpose of stereo". The Weeknd and Ed Sheeran also have some good tracks that serve as an introduction into immersive audio for music. With music in Atmos format, A7000 takes a step up and if you like to watch concerts on the TV I can even imagine it serving as a solution for
listening
to music. HT-A7000 also support '360 Reality Audio', which is Sony's spatial audio format for music. It is or will be supported by Amazon Music HD, Deezer, nugs.net and Tidal.
Listening test: Movies
Netflix, Disney+, Apple TV+ and more recently HBO Max offer movies with Dolby Atmos audio so we are getting to a point where there is a healthy selection of streaming content in the new format. Many people have moved on from discs but many Blu-ray and UHD Blu-ray discs also come with a Dolby Atmos soundtrack, and sometimes DTS:X, in lossless quality as opposed to lossy quality on streaming. Of course, it is debatable if a soundbar like Sony's is even capable of revealing the differences between lossless and lossy Dolby Atmos – similar to how a smaller screen can mask the compression used to distribute 4K HDR over streaming. The movies used for this test come from Apple's iTunes library, which we consider a common scenario for people opting for a soundbar instead of a full HiFi system. We watched
Blade Runner
(with special attention to the scene where the casino is attacked),
Venom
(especially scenes where Venom talks inside the head of Brock), the helicopter scene at the end of
Mission Impossible 6
, and all action scenes in
Fantastic Beasts
(1 and 2). With the launch of Disney+, we also have readily access to the full catalog of Marvel and Star Wars movies to satisfy our hunger for "sci-fi" Dolby Atmos.
Also read: Guide to Dolby Atmos at home
As a standalone soundbar A7000 falls short when a movie transitions into action scenes as the lack of bass makes it sound a little too flat and lifeless. The sound space is not very immersive either as the up-firing units never manage to really punch through even when there are fly over sequences in movies. Without discreet rear speakers the viewer will be keenly aware that sound is reproduced by units in front of him/her. A7000 better manages to extend the sound stage horizontally and I found myself surprised more than once to learn that it was actually A7000 producing the sound effects in the adjacent living room. The fact that A7000 falls short when it comes to sound behind the viewer is no surprise as we have yet to find any soundbar that can do it without additional rear speakers. The ability to reproduce clear and distinct voices is one area where A7000 excels. Dialog in movies was clear but also very direct so we were never in doubt that it came from a source placed under the TV. The lack of bass on the other hand is detrimental to the movie experience and confirms that A7000 must be paired with a subwoofer for a good experience. The rear speakers are not as essential so if you want to prioritize we would recommend that you go with the subwoofer first. I found that the rear speakers must be turned up to maximum volume to really add to the experience whereas the subwoofer was more ideal around mid-level volume. Comparing Sony HT-A7000 in terms of audio quality and value-for-money to other well-known soundbars, its cost is roughly on par with B&O's
Beosound Stage
, which I would prefer for music, "normal" TV audio, and living spaces where a Dolby Atmos setup is not ideal. Adding the SA-SW5 subwoofer makes A7000 a considerably more expensive solution but it cannot go without in my opinion. It is possible that the smaller and more affordable SA-SW3 is good enough but we have no experience with it so we cannot say for sure. If you want the full surround sound experience you should also consider SA-RS3S (yes, a mouthful and easy to remember) but it all adds up to more than 2000-2500 dollars or euro. A complete setup with Sonos Arc, Sonos Sub and Sonos rear speakers will actually be considerably cheaper – at least in my region – and here you may not even need the subwoofer, depending on your living space. With that in mind I think A7000 has a worse value-for-money ratio than comparable soundbar solutions, especially because audio quality is not as good.
Conclusion
If you, like us, have wondered when Sony would launch a successor to the HT-ST5000, well here it is. It took four years but with HT-A7000 we have a new high-end Dolby Atmos soundbar from Sony, which can finally be expanded with optional rear speakers. Sony HT-A7000 offers improved sound compared to its predecessor, more units, more features, and the system is expandable through wireless connection. The subwoofer is now optional so you have to pay extra compared to ST5000 at launch.
HT-A7000 supports Dolby Atmos and DTS:X, and it is one of the first soundbars to feature HDMI 2.1 passthrough for 4K120 and 8K. Some other HDMI 2.1 features, like ALLM, will require a firmware update scheduled for spring 2022. In terms of design, A7000 looks like an ordinary black soundbar but it is well-made and feels very sturdy.  HT-A7000 as a standalone soundbar disappoints as it lacks bass so without a subwoofer A7000 cannot live up to our expectations for movie watching. One area where it excels is treble and the ability to produce very clear voices – much clearer than even the Sonos Arc. If you want the big, immersive Dolby Atmos experience, with rear speakers and subwoofer, you will have to cough up 2000-2500 dollars or euro, which is high even compared to the
Sennheiser Ambeo
. We have found
Sonos Arc
and
B&O Beosound Stage
to have a better value-for-money ratio in terms of audio quality, and if you add a subwoofer to A7000 it competes in the same price class as Sennheiser Ambeo, which is a considerably better speaker solution for music. Overall, it is hard to point to a price class in which Sony HT-A7000 comes out as the clear winner. It is a good speaker package but in the end you can get more for less.
Price and retailers:
---
Improved sound vs. ST5000
Clear treble (voices)
Dolby Atmos, eARC and DTS:X
Optional rear speakers & sub can be connected
HDMI 2.1 switch
---
Limited Atmos effect
Lacks bass
Expensive vs. competitors
---